Street, Sanitation, Recycling Dept.
Street & Sanitation Department
Street Superintendent
David Teeples
305 E. Head Street
Jefferson, IA 50129
515-386-3252
515-386-4671 (f)
Hours Available:
Monday through Friday
7 a.m. to 3:30 p.m. - Street Department
6 a.m. to 2 p.m. - Sanitation Department
The Street Department has three employees and is responsible for all street maintenance including street sweeping; patching; traffic signs; paint striping and markings; equipment maintenance and repair; removal of dead or diseased trees in the city right of way; in addition to snow and ice removal and mosquito control.
Traffic Division
The Traffic Operations Division is responsible for the placement of the necessary traffic signs, traffic signals, informational signs, banners, and temporary traffic controls needed for parades, special events, or as requested by the police department. This division is also responsible for the painting of the traffic control lines, cross walks, parking stalls and handicap parking decal placement in the respective parking spaces.
Sanitation Department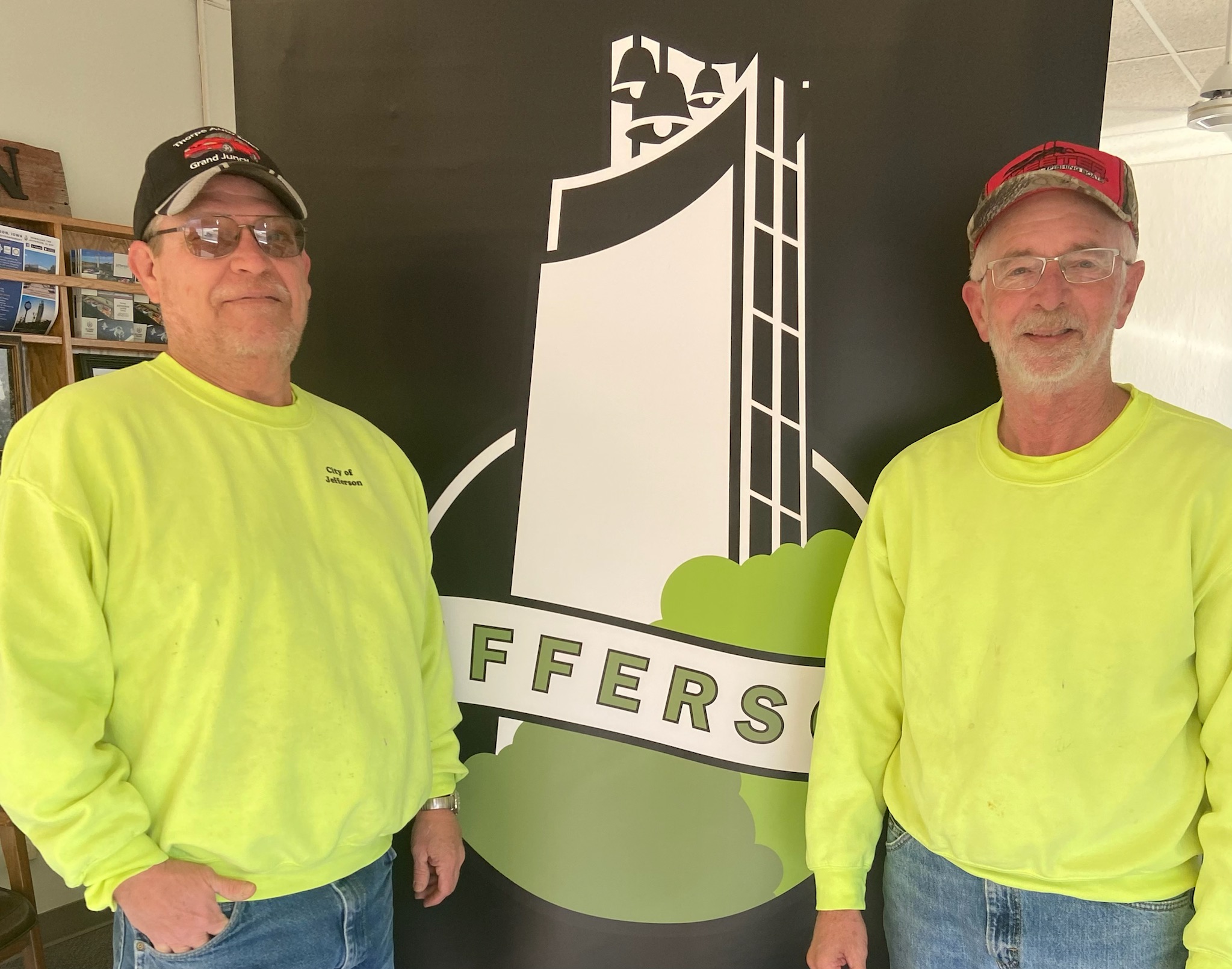 Sanitation Department
Skeeter Hostetler
515-386-8260

The Sanitation Department is operated by two employees and provides garbage pickup five days a week. The city is divided into three sections with each section being pickup on their own day. This department also provides yard waste, appliance, and e-waste pickup on the same day as your garbage pickup. This department also helps in street department functions. Dumpster rentals are available, on a temporary rental basis, by calling City Hall at 515-386-3111.
FREE RESIDENTIAL DUMPSTER IN LIEU OF SPRING & FALL FREE CLEANUPS
The City of Jefferson offers a year-round service to its residents in place of a semiannual clean up week. In the past, the city has offered a free clean up week in the spring and fall where residents were able to place items curbside for collection. Residents were given two free 1 ½ yard hoppers, or 3 yards of free garbage collection. Appliances and other electronics were collected for a fee. Metals and related items were collected for no charge.
In place of the City-wide clean-up weeks the City will be offering a year-round service. The City will have dumpsters for residents to utilize free of charge for a period of one week. Residents will be allowed 4 yards of garbage/junk to be collected at no charge which is 1 yard more than previously allotted. Any additional dumps of the dumpster will be billed at standard collection rates. The dumpsters will range in size from 1 ½ yard to 4 yard.
The dumpster may be used for household items, junk, garbage, small items of furniture and building materials. Heavy items such as roofing shingles or drywall are acceptable, but they can only fill up to one-half of the container. Items placed in the dumpster must fit within the dumpster and cannot extend above the top or extend past the sides of the dumpster. Larger items such as furniture or mattresses can be placed curbside and normal collection fees apply to those items.
Dumpsters must be placed on a hard surface. Dumpsters may not be placed on the street or sidewalk. Snow and ice accumulations must be removed and cars must be kept clear of the dumpster.
Items that are not acceptable in the dumpster are toxic, hazardous or flammable materials, pesticides, herbicides, solvents, gasoline, motor oil, paints, batteries, tires, concrete, appliances, televisions, monitors and yard waste. The customer is responsible for any additional landfill fees if these items are contained in the load.
Appliances and other electronics cannot be placed in the dumpsters but can be placed curbside year-round on the resident's regular garbage collection day. Normal collection fees will apply to those items. Metals can be set out all year round and will be collected at no charge.
The City is switching to this new collection method to minimize the risk of injury and potential exposure to hazardous materials by the public and City employees while at the same time offering a service that provides a year-round opportunity to dispose of garbage/junk.
Residents wishing to participate in the free dumpster system are asked to call City Hall. They will be placed on a list to have a dumpster delivered to them. As dumpsters become available, they will be delivered to residents in the order that they were requested. If a resident does not need a dumpster for a full week, they can let City Hall know and the dumpster will be delivered to the next person on the list. Dumpsters will not be left at a residence any longer than one week.
Residents are reminded that with the switch to the automated curbside collection of garbage, the new containers hold 95 gallons of trash weekly compared to 70 gallons prior to the automated trash collections system. If there are extra items to be disposed of weekly, we urge residents to fill their trash containers full each week instead of saving it. Four dumps of the 95-gallon containers are approximately equivalent to filling a 2 yard dumpster.
What is E-Waste?
Computer mouse, circuit board, CD-rom drive, hard drive, keyboard, pair of speakers, cellular phone, pager, external modem, external drive, network hub or router, laptop battery, telephone, CPU for desktop computer, VCR, typewriter, TV, and fax machine just to name a few.
Recycle Department
515-386-3252 - This department is operated by one employee. The recyclables are picked up every other week, (2023 Recycling Calendar) with drop boxes in the surrounding communities.

Please follow the following rules for recycling:

Break down all cardboard for in town curbside pickup and all drop box locations.

No Styrofoam or packing products can be recycled.

No Amazon mailer envelopes.

Please rinse all cans and glass jars.

All recycling in drop boxes must be loose and not in garbage bags.

If you are in doubt about whether it should be recycled, please consult the

Recycling Guidelines

or throw it in the garbage.
For more information about recycling, please watch this video: Recycling 101
Frequent Links: