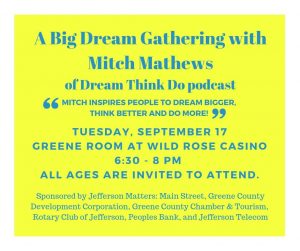 Big Dream Gathering with Mitch Matthews in Jefferson
What's a Big Dream Gathering? "It is a fun and inspiring event to help you get clear on your dreams, and get some help to make them happen." Mitch Matthews of the top-rated podcast DREAM THINK DO has offered to facilitate a Big Dream Gathering in Jefferson on Tuesday, September 17. Mitch's offer came to the community when he was attending the Pillar Technology event in December, 2018. The location of the Big Dream Gathering is the Greene Room at Wild Rose Casino 777 Wild Rose Drive in Jefferson. It will be held from 6 – 8 pm with Mitch starting off with an Opening Keynote. People of all ages are invited to attend and those outside of Greene County are welcome to attend too! The expected crowd is between 150-250 people and there is no cost to attend. Sponsors for the event along with Jefferson Matters: Main Street are Greene County Development Corporation, Greene County Chamber & Tourism, Jefferson Telecom, Peoples Bank and Rotary Club of Jefferson.
Thousands of people have participated in these inspiring Big Dream Gatherings and countless dreams have been launched. Mitch will inspire the community to dream even bigger, equip us to help each other in authentic ways and achieve at new levels. It will be an event we could be talking about for years to come!
Mitch is a storyteller. He combines powerful stories, practical science and proven strategies so audiences can laugh and learn, be inspired and equipped and leave empowered and changed for the better. The participants will be able to think about their own dreams as well as dreams for the area. The ripple effect will be people dreaming bigger for themselves and help make those dreams a reality!
Mitch has been facilitating training for over two decades and has worked with leaders from organizations like NASA, Disney, Merck, and the Principal Financial Group. His podcast DREAM THINK DO was recently rated #1 by the Huffington Post. Find out more at www.mitchmatthews.com.